Resolving your contract disputes through negotiation, mediation, arbitration, or litigation.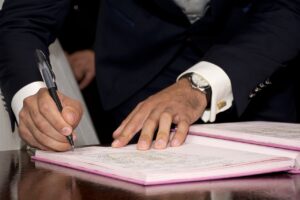 Business is run on contracts. Companies enter agreements with their employees, customers, vendors, suppliers, partners, and others with whom they interact.
Contracts establish the rights and obligations of each party. If one of those parties fails to fulfill an obligation, another party may allege a breach of contract and try to recover damages and other relief.
When a contract dispute arises, we counsel our clients on their rights and options. We work to resolve disputes informally and save our clients substantial cost and disruption. When formal proceedings are required, we aggressively enforce our clients' rights and defend their actions.
Types of Contracts
Disputes may arise from a broad variety of oral or written agreements. We have reviewed, drafted, revised, or analyzed all manner of business and employment contracts, including:
• Buy/sell agreements
• Commercial contracts
• Corporate bylaws
• Joint venture agreements
• Government contracts
• Guaranty agreements
• Offer letters and new employment agreements
• Operating agreements
• Partnership agreements
• Purchase agreements
• Non-compete agreements
• Non-solicitation agreements
• Separation and release agreements
• Services agreements
• Shareholder agreements
Types of Disputes
Contract disputes may relate to payment obligations. Companies provide goods and services. Clients or customers sometimes refuse to pay. Demands and informal negotiations do not always work. If your business is compelled to pursue payment, we work efficiently to prepare and prosecute your complaint. If your business must defend allegations of non-payment or non-performance, we can aggressively represent your interests.
Other disputes concern allegations of inadequate performance or non-performance of duties other than payment. Such claims may depend on expert testimony as to industry standards or as to the amount of damages resulting from a breach.
Contract violations also may relate to "restrictive covenants," such as non-compete, non-solicitation, and non-disclosure agreements. Such restrictions protect a company's business, staff, clients, and proprietary information. A violation may have a devastating consequence. We work with business clients to quickly enjoin such behavior and recover your damages, including any liquidated damages.
Damages and Other Relief
A party to a contract may be entitled to several categories of damages, including compensatory damages, restitution, and punitive damages. A court may also order "specific performance," – that is, requiring the breaching party to perform as agreed in the contract.
Some contracts define "liquidated damages," which is a predetermined amount that a party must pay in the event of its breach. Liquidated damages are often used to estimate actual damages when such amounts may be difficult to quantify.
Other contracts allow a party that wins a breach of contract claim (often called the "prevailing" party) to recover not only its damages, but also the costs and attorneys' fees that the party had to pay in order to enforce its rights. Such fee-shifting provisions can make a dramatic difference, as to whether a party decides to pursue their contractual rights and as to how much they ultimately recover.
State laws vary as to the availability and assessment of contract damages and other relief. Contracts often dictate which state's law will govern any dispute arising from that agreement. Companies or individuals should consult with an attorney licensed in that governing state.
Smart and Aggressive Representation
Contract disputes can be costly and disruptive. They can distract management and staff from their work. They can cause damage to your business reputation. They can result in significant fees and large monetary judgments.
When your business and employment contracts are violated, you need counsel who can resolve such disputes informally, and protect your interests in case formal proceedings are required. We can enforce your contract rights or defend you against allegations of breach.
Our firm has over 20 years of litigation experience. We represent clients in state and federal courts in Virginia, Maryland, and the District of Columbia. In addition, we handle mediation, arbitration, and government agency proceedings.